Spine & Pain Care
When it comes to back pain, it's personal.
That's because when your daily activities are halted by back and neck pain—whether sharp, dull, burning or throbbing—it can be difficult to enjoy life. At Wellstar, our Spine & Pain experts know your pain isn't like anyone else's because your body and lifestyle are uniquely yours. We work with you to develop a personalized treatment plan just for you.
Spine & Pain Care at Wellstar
Our pain management physicians and neurosurgeons are dedicated to helping you resolve your pain so you can return to what really matters. We treat patients with neck and back pain and weakness, including all disorders of the cervical, thoracic and lumbar spine.

We are committed to treating your pain as quickly and safely as possible. Our expert team will treat any urgent problem same-day. We also can provide non-urgent or second opinion consults in the same week.

Wellstar's multidisciplinary teams include board-certified pain management physicians, all highly experienced in treating and managing pain. Our dedicated team will work to find the most effective care plan for you, including non-invasive and minimally-invasive treatment options.

If you are determined to be a candidate for surgical intervention, our expert neurosurgeons can treat your chronic pain with the latest medical technology. These experts have an average of eight to nine years of specialized training focused on protecting your spinal cord, nerves and brain.

Our comprehensive, results-driven spine care team will work with you to determine the best type of treatment, whether that's nonsurgical therapies, minimally-invasive procedures or highly complex neurological surgery.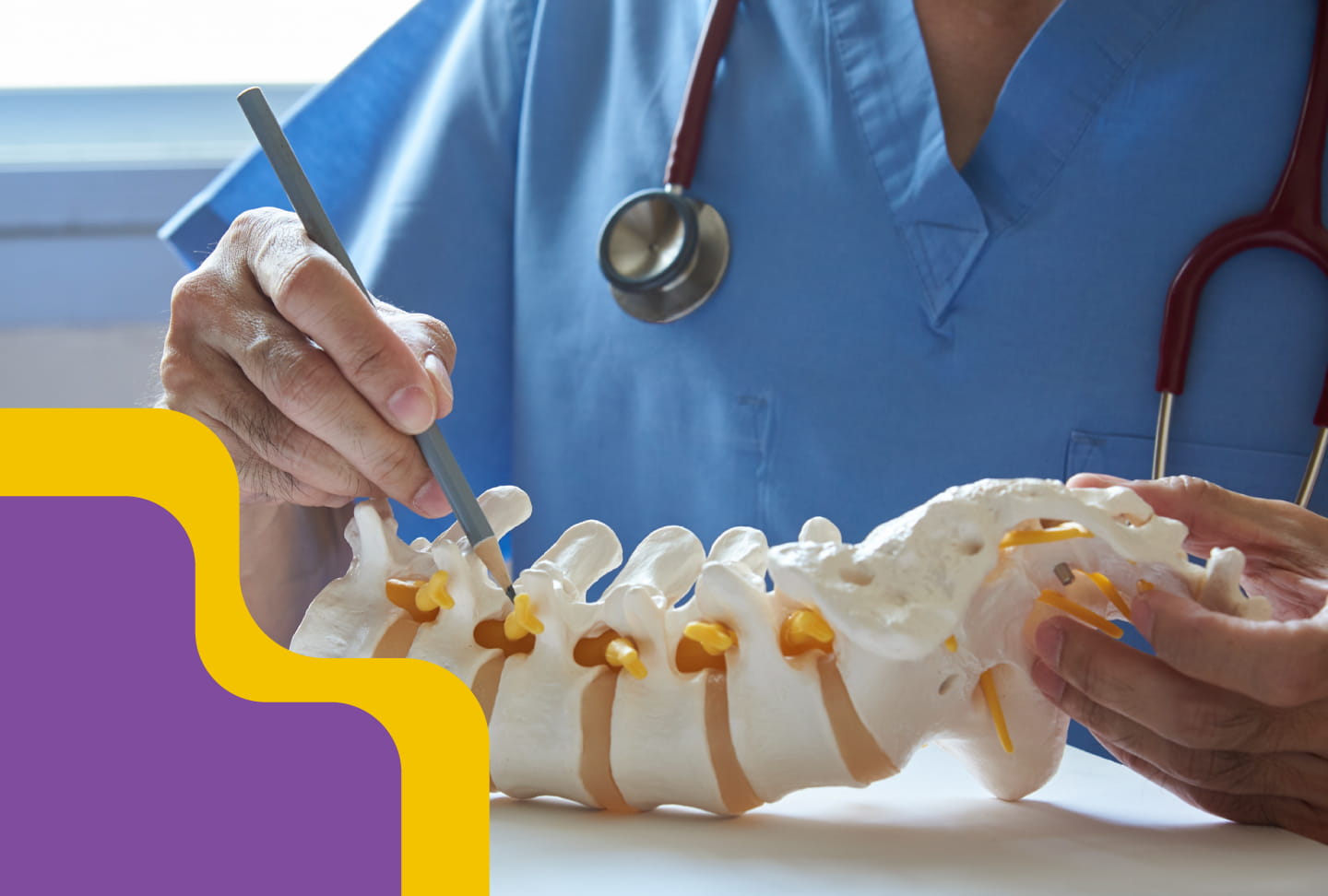 SPINE CARE
Barbara Deans was worried she would never walk again — until she went to Wellstar. She had a herniated disc on her sciatic nerve. She turned to Dr. Marcus Gates, a neurosurgeon at Wellstar Cobb Hospital, about her next steps.
Read the full article
Wellstar is the only health system in Georgia that belongs to the Mayo Clinic Care Network. Our neurosurgeons have a direct connection to the Mayo Clinic and can request detailed consultations for complex spine cases, at no additional cost to the patient.
Non-Surgical Treatment First
Too many patients may have surgery without first exploring non-surgical therapies which may have produced similar outcomes.

At Wellstar, every pain management physician and neurosurgeon is focused on protecting and preserving the spine with timely and appropriate care. We follow a clinically proven pathway that is based on quality outcomes.

Often, patients see an advanced practice provider (APP) first to determine if they need imaging. Typically, our patients also receive a recommendation for nonsurgical treatment first, which may include physical therapy, weight loss and interventional pain management.

Other minimally-invasive treatments, such as nerve blocks, may provide relief for patients suffering from chronic pain, before receiving care from a neurosurgeon or having a more complex surgical procedure.
Individualized neck & back pain
We have one focus: to provide personalized care for each and every patient dealing with neck and back pain.

Our experienced pain management team helps patients find relief for pain caused by a variety of back and neck conditions, including degenerative spinal disease, acute disc herniation, chronic leg and arm pain, spinal vascular conditions, cancer, and pain caused by trauma, such as vehicle collisions.

While our high volume of cases provides us with an extensive depth of experience, we see and care for every patient as an individual.
Who cares for patients?
Our healthcare providers take the time to truly get to know patients throughout their healing journey.

Our pain management physicians can help you find relief for chronic pain through many non-invasive and minimally-invasive treatments. Patients may need to be referred to a neurosurgeon for specialized care, depending on their unique medical condition and response to treatments.

The Wellstar neurosurgery team specializes in treating spinal cord and nerve disorders. The neuro team includes a nurse practitioner or physician assistant, a medical assistant, and a patient coordinator who spend time educating and guiding patients and families.

In addition, Wellstar also has affiliated orthopedic providers who can care for certain conditions of the spine and bones.

Various members of the team accompany patients as they progress through treatment. This creates a continuum of care to help each and every patient feel comfortable throughout their journey.
Our patients say it gives them peace and confidence when a neurosurgeon says they can heal without surgery.
Acute low back pain treatment
Our spine care team created a screening tool and treatment system to help each patient get the right level of care.

Most patients qualify for non-surgical care, or conservative pain management. For patients with a low risk of developing chronic lower back pain, we may recommend a combination of rest, non-narcotic pain medication, time and exercise.

Patients with a higher risk for developing chronic lower back pain may require a combination of healing methods which can include physical therapy, chiropractic care, and interventional pain management.

When someone has a higher risk for developing chronic back pain, advanced imaging may become necessary to determine if surgery should be considered.
Advanced treatments & technology
When non-invasive treatments are unsuccessful, our team of neurosurgeons can help you take control of your chronic pain through safe, effective surgical procedures.

Wellstar's neurosurgeons offer a range of treatments including spinal fusion, minimally-invasive spine surgery, and spinal cord fusion at Wellstar Atlanta Medical Center, Wellstar Cobb Hospital in Austell, Wellstar North Fulton Hospital in Roswell and Wellstar Kennestone Hospital in Marietta.
Wellstar Spine & Pain Center
This is the premier center for multidisciplinary spine care, including chiropractic, neurology, pain management and neurosurgery.
Currently showing
6

total listed locations