Visitation Guidelines
Wellstar Health System has enhanced our visitor policy as part of our commitment to providing a safe environment during the COVID-19 pandemic.

Every hospital is assigned a color reflecting its current visitation policy based on the number of active COVID-19 cases in each local community. The level of COVID-19 infections determines when and how many essential caregivers—patient advocates, family members and loved ones—can visit at this time.

We appreciate your cooperation as we work together to keep your loved one safe and healthy. If you have questions about the visitation policy, please call your local Wellstar hospital.
Green Positive COVID-19 case levels are ongoing or low. Two essential caregivers (visitors) are permitted in most areas from 10:00 AM to 7:00 PM.

Yellow Positive COVID-19 case levels are elevated. No essential caregivers (visitors) are permitted in most areas.

Red Positive COVID-19 case levels are high. No essential caregivers (visitors) are permitted.
Essential Caregiver (Visitor)
Wear required personal protective equipment within the hospital.
Take necessary precautions to stay healthy at all times, which includes wearing a mask, social distancing and frequently washing hands.
Check the Wellstar webpage or call the hospital's main phone number and listen to the updated recording prior to arriving to ensure visitation is permitted.
Help maintain and secure patient belongings.
Serve as the primary point of contact and help communicate to the patent's family and friends.
Provide emotional support to your loved one in partnership with the clinical team.
Attend Interdisciplinary Rounds, when possible.
Assist with providing relevant history about the patient's care.
Please follow all instructions from the care team.
Parking Information
We have a parking garage for patients and visitors that is available 24 hours a day, seven days a week. Please do not park in restricted areas, and make sure to lock your car. If you need help with your vehicle or an escort to your car at night, please call security at (404) 466-1911. Free parking is available for all Emergency Department patients.
Parking Rates
0-30 minutes: $1
31-60 minutes: $2
61-120 minutes: $3
121 minutes - 24 hours: $4
Rates repeat after 24 hours. Deck hours are from 7:00 AM to 9:00 PM. All major credit cards are accepted.
Valet Parking
Wellstar Atlanta Medical Center South offers free valet parking to patients using our Surgery Center. The valet is located behind the hospital and can be accessed via Felton Drive or Norman Berry.
Become a Wellstar Volunteer
Working diligently in virtually every area of our hospital, volunteers are our extra hands and hearts! They play the harp and the piano, provide pet therapy, sing, knit, wash hair, do hand massage, encourage, care, help, smile, serve tea, hold hands, garden and push wheelchairs.
Wellstar's 1,100 volunteers work more than 200,000 hours a year, representing $3.6 million in donated time.
Wellstar volunteers also raise money—more than $773,000 each year, helping us buy needed equipment, renovate facilities and educate our patients.
Learn more about volunteer opportunities at Wellstar Atlanta Medical Center South
Accreditations & Recognition
Target: Type 2 Diabetes Honor Roll™
Get with the Guidelines: Silver Plus Achievement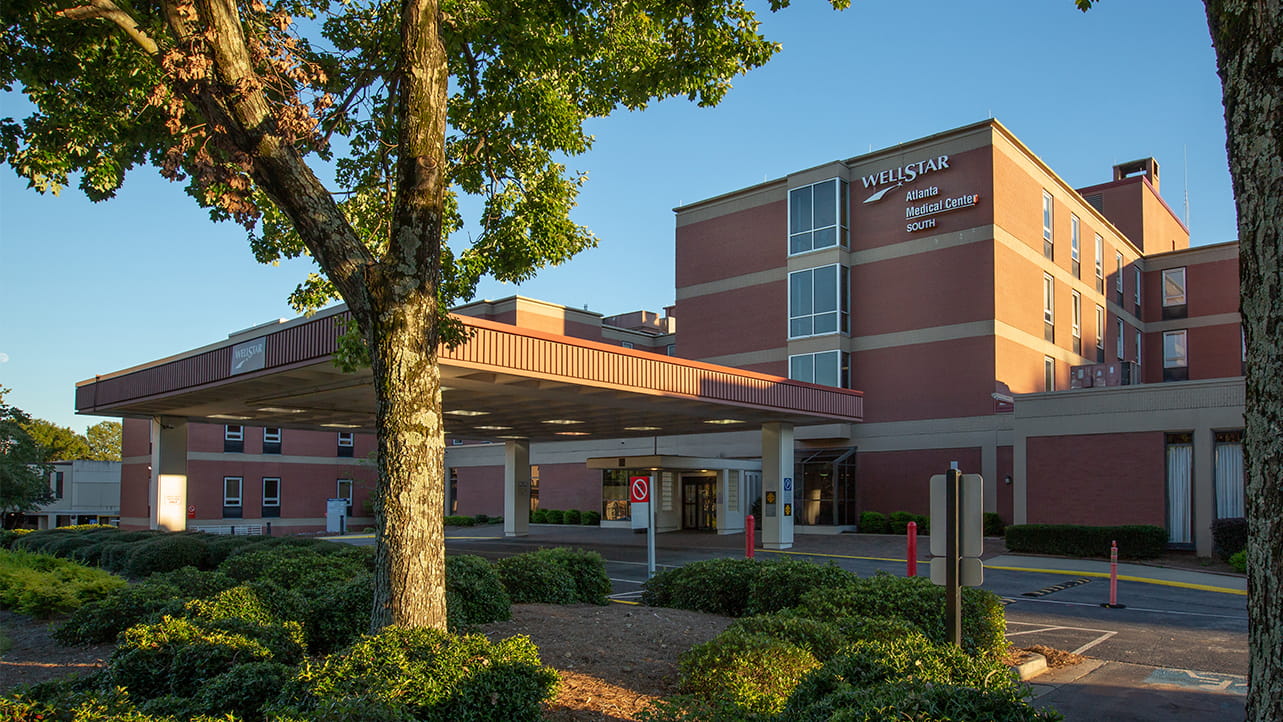 Caring for the People of South Atlanta
We strive to heal, support and comfort all we serve
For the health and safety of our communities during the COVID-19 pandemic, all events and classes are limited. For a complete list, see our event calendar.