The recent surge in COVID-19 cases has caused a sharp rise in the demand for COVID-19 testing. To help meet the community's needs, the Georgia Department of Public Health (DPH) is now conducting drive-through COVID-19 testing at Wellstar East Cobb Health Park.
Hours of Operation
The DPH provides COVID-19 testing for people of all ages, and no appointment is necessary. The DPH drive-through site at Wellstar East Cobb Health Park is open Monday through Friday from 9 AM to 4 PM, and Saturday/Sunday from 10 AM to 2 PM. Please note, this testing site is closed for holidays and in cases of inclement weather.
Directions for DPH Testing
The DPH testing site is located in a parking lot adjacent to Wellstar East Cobb Health Park. Enter from Roswell Road and turn right on the side street entrance before Health Park Drive. Continue straight, take the first right and look for DPH testing signs.

Use the parking lot map below to find the right route for DPH testing: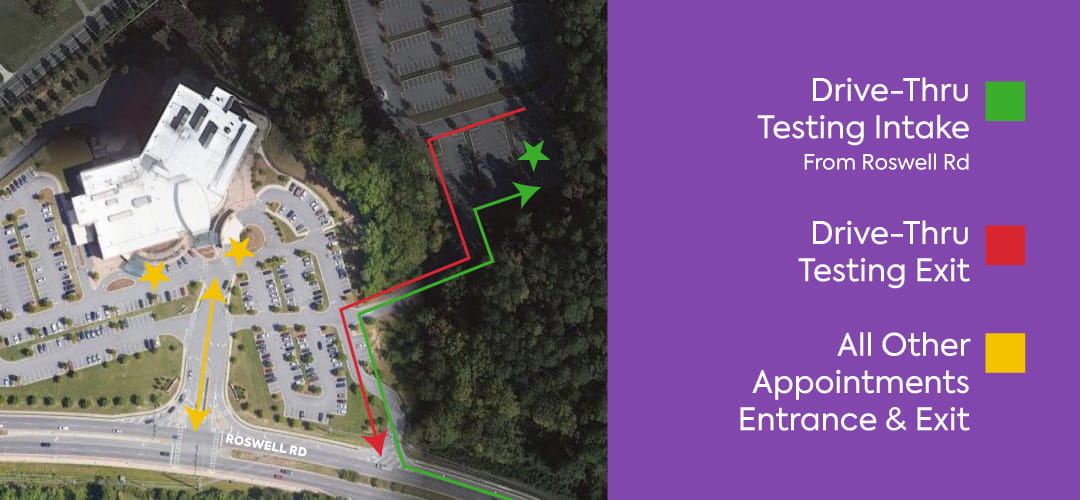 For more information, visit our COVID-19 testing page.