Uterine Fibroid Embolization
Helpful Information for Physicians
---
Study Description
Embolize arterial supply to uterine leiomyomas
Angiographic procedure under fluoroscopic guidance
Minimally invasive, requiring only common femoral arterial access and IV access
Post procedure monitoring for pain/nausea control
Most patients discharged the same day as procedure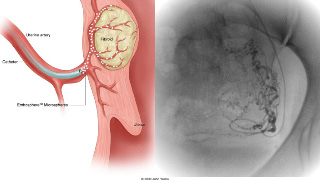 Patient Selection and Indications
For treatment of symptoms from fibroids including excessive bleeding, bulk symptoms, painful intercourse, pelvic pain, or bloating. Ideal for patients wishing to avoid surgery. The recovery time for UFE is shorter than for hysterectomy or myomectomy. Long term pelvic floor function is largely preserved in UFE versus hysterectomy (see section on MR defecography).

Although desire for pregnancy is a relative contraindication for UFE, preservation of fertility has been extensively documented in patients status post UFE. Patients desiring pregnancy should consult with their OB/GYN for other treatment alternatives including myomectomy.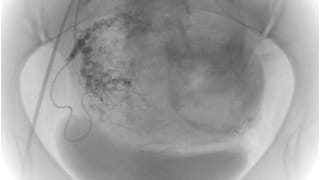 Patient Preparation
The patient should be referred to Quantum Radiology Interventional Section for assessment of imaging history and physical exam. A thorough review of imaging history, medical history and therapy will be performed and the patient will be scheduled by Quantum for any required laboratory tests (BMP, PT/PTT, CBC) if not already performed within the last 30 days. A MRI of the pelvis with gadolinium contrast will be ordered if not already performed. The patient will then be scheduled for the procedure at a Wellstar facility (Windy Hill).

Contraindications include:
history of reaction to IV contrast
undiagnosed pelvic mass
largely exophytic, pedunculated or submucosal fibroids
creatinine > 1.5 mg/dL
platelet < 60K/uL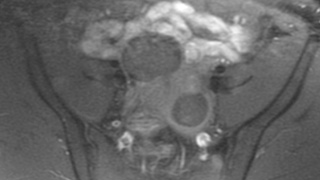 Reporting and Outcomes
A follow up MRI should be performed six months after the procedure and may be scheduled through the referring physician's office or by Quantum Interventional. It will be read by a Quantum Diagnostic Radiologist with special training in evaluating post embolization scans.

Uterine fibroid embolization is well tolerated and multiple randomized trials have shown dramatic improvement in symptoms with minimal complications.