Wellstar Atlanta Medical Center Nursing
At Wellstar Atlanta Medical Center, our healthcare heroes are more than just nurses, doctors and staff helping people overcome illnesses. We are truly friends caring for friends, family caring for family and neighbors caring for neighbors.
Watch video
Nursing at Wellstar Atlanta Medical Center
---
Nursing Mission
Wellstar Nursing: Caring Compassionately, Practicing Professionally
Nursing Vision
Wellstar nurses will be recognized as a national leader in the practice of nursing by promoting holistic patient and family-centered care, quality and innovation, education, evidence-based practice, and research.
Nursing Values
We serve with compassion. We pursue excellence. We honor every voice.
Wellstar Nursing Professional Practice Model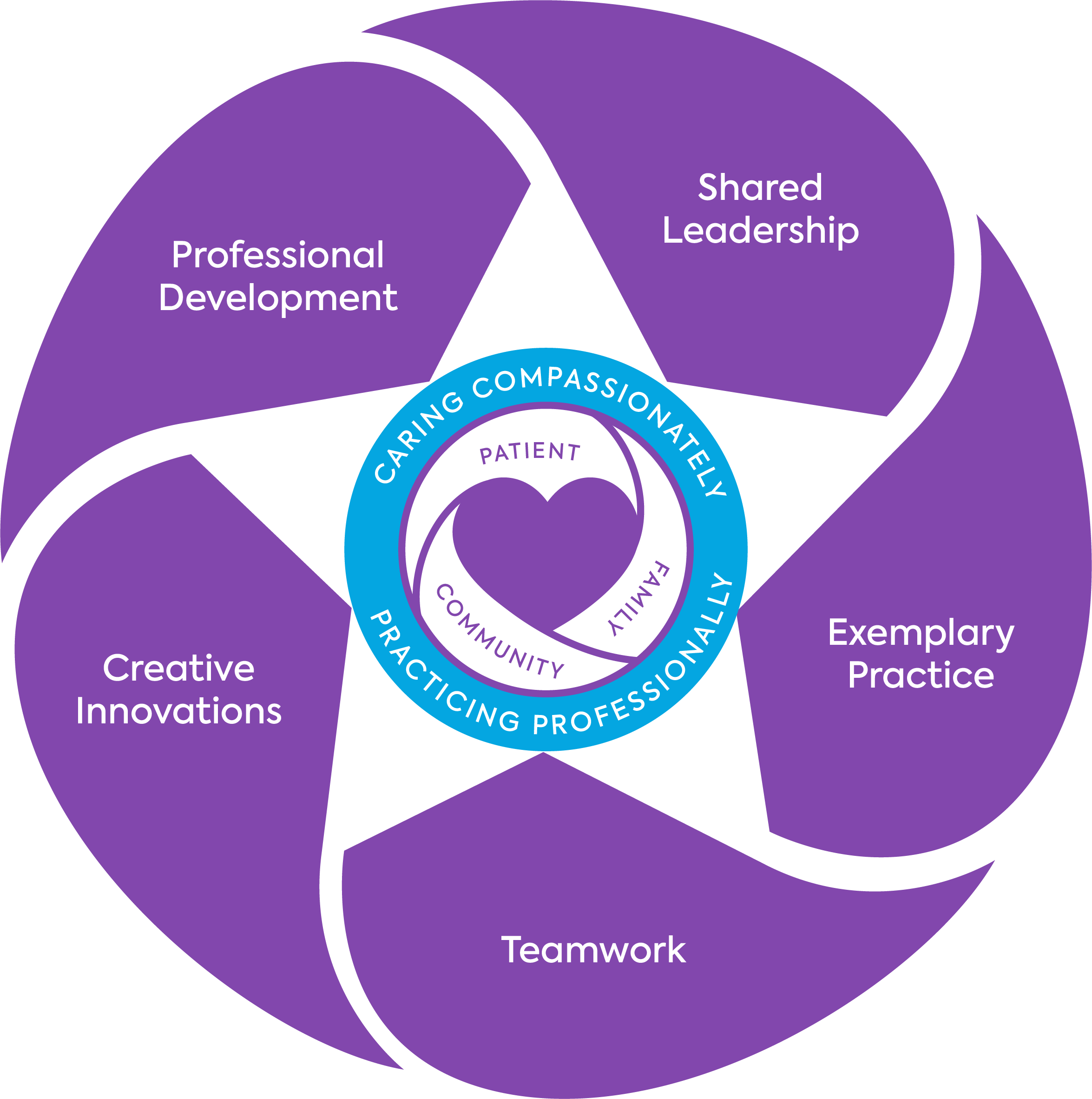 The Wellstar Nursing Professional Practice Model (PPM) is grounded in five practice sustaining elements that encircle nursing's mission and values, those nurses care for, and how care is delivered.

The star, created by the continuous flow of the practice elements, represents exceptional care provided by exceptional caring, professional nurses.

The heart in the center represents how care is delivered across the continuum supporting Wellstar's belief in a life well-lived.
Care Delivery Model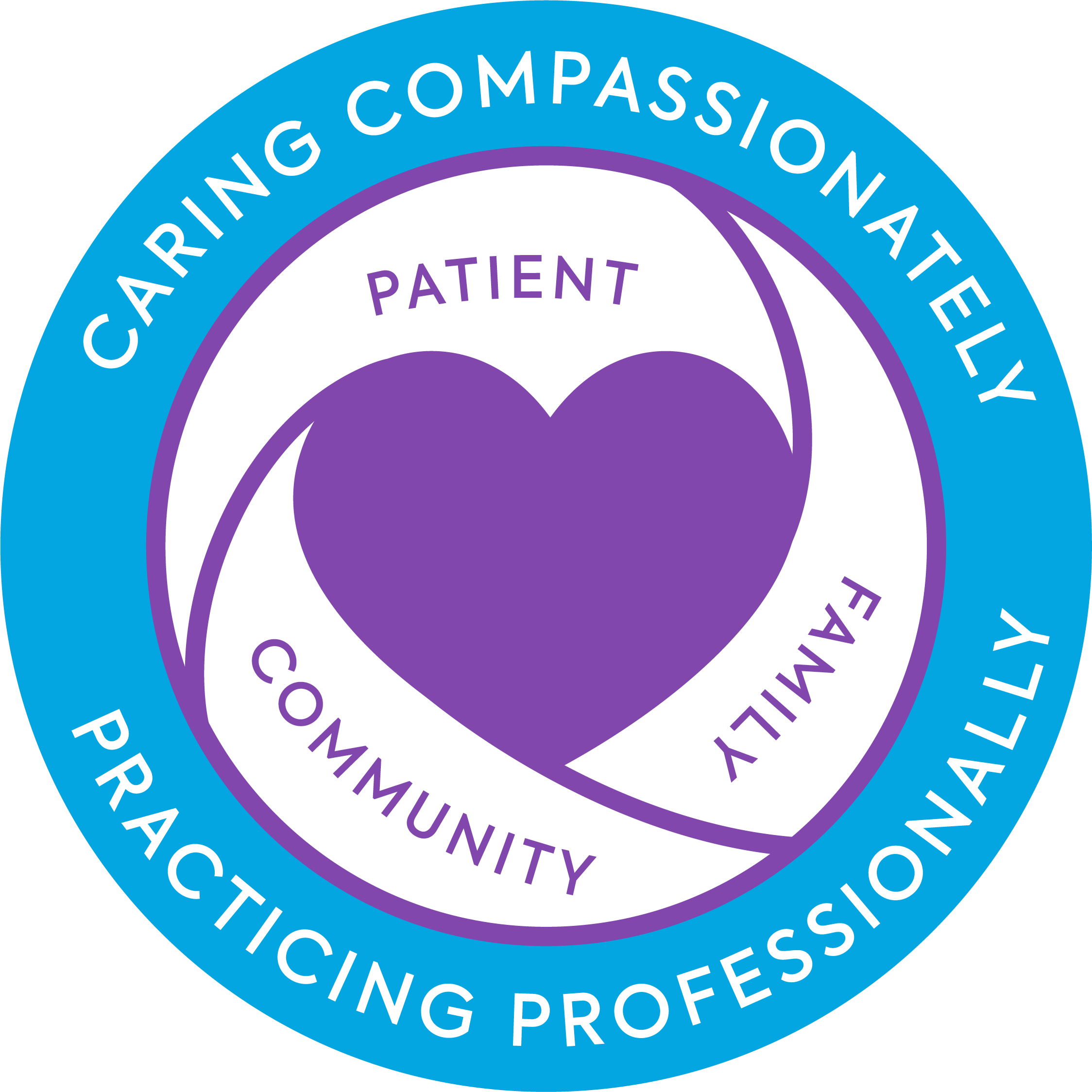 The Holistic Patient-and Family-Centered Care Delivery Model is at the center of the Nursing Professional Practice Model and addresses those nurses caring for the patient, the family and the community, and how care is provided. The heart represents Holistic Patient- and Family-Centered Care, encompassing the art and science of nursing. Holistic care recognizes the patient as a whole and acknowledges the interdependence among the body, mind and spirit's role in health and well-being, and is inclusive of the patient's social paradigms with family and community. The patient and family are active partners with nurses, as care is viewed as doing things with and not to or for the patient. We believe this level of participation in care leads to a higher level of patient engagement, happiness and recovery. The Wellstar Nursing Care Delivery Model is a contemporary model, not based on a nurse theorist, but rather grounded in the elements of Holistic nursing, principles of patient- and family-centered care, and professional nursing ethics.
Rising Stars Nurse Residency Program
The Wellstar Nurse Residency Program (NRP) is a 12-month program designed to help new graduate RNs successfully transition from advanced beginners to become competent professionals. The NRP facilitates experiences and learning that contribute to the newly licensed RNs understanding and management of professional concepts such as role development, conflict resolution, delegation, quality outcomes, ethics, diversity, inclusion, and professional research.
Nurse Residency Program Objectives
Include:
Utilizing effective decision-making skills
Providing clinical nursing leadership at the point of care
Incorporating research-based evidence into practice
Strengthening professional commitment to nursing
Formulating an individual development plan
Preceptor Training
Wellstar recognizes the critical role nurse preceptors play in the education, socialization, and mentoring of our new team members. Nurse preceptors are provided the tools and evidence-based training to become effective preceptors.
University Partnerships
Wellstar Atlanta Medical Center (AMC) partners with universities in providing research and practical opportunities for students in nursing programs. These partnerships allow nursing majors to gain the experience they need, while allowing Wellstar to help mold and attract talented nurses back into the organization. AMC's university partnerships include Kennesaw State University and Mercer University. One example of a partnership, Wellstar has aligned with Kennesaw State University to create an endowment that provides nursing scholarships to students. Their goal is to increase the number of scholarships awarded each year, attracting more and more students into the nursing program. AMC continues to find innovative ways to leverage that by partnering with quality nursing programs in the region.
Professional Excellence and Recognition
Wellstar Atlanta Medical Center Awards
Lifelink of Georgia – Platinum Award
Atlanta Medical Center recognized as most racially inclusive hospital in Georgia by Lown Institute
American Heart Association – Target Stroke Elite Plus – Gold, Atlanta Medical Center
American Heart Association – Target Type 2 Diabetes – Honor Roll, Atlanta Medical Center
Daisy Award Winners
Robin Hanks, RN,
received the Daisy Award for being a strong advocate for her patient. A 17-year-old patient was brought to the Emergency Department at Atlanta Medical Center after suffering obvious signs of neglect. Following a thorough investigation and treatment of the medical concerns, the team then started to work on a safe discharge plan. Robin took it upon herself to advocate for the patient to ensure that the present situation he was currently in would not happen again. Due to more concerns discovered with the patient, Robin immediately contacted a social worker and asked for a referral to DFCS. Though a referral wasn't recommended, Robin followed her instincts and took it upon herself as a mandated reporter to make the report. Ultimately the child was discharged to an appropriate and safe place. Robin acted as a true patient advocate. She went above and beyond her normal duties as a charge nurse in order to help move this patient to a safe environment.
Allison Lansford, RN,
received the Daisy Award for going above and beyond. She cared for an ICU patient who had been there for an extended period of time. The patient received a tracheotomy which hindered his ability to talk. Allison was able to communicate with him like a friend, while she continued to care for him. One day he told her he liked Star Wars but had never seen it. Allison bought him a DVD set and a player. The patient was transferred before the DVD player arrived. Allison sought him out on his new floor to surprise him. She went above and beyond to make him feel like family.
Taylor Llorens, RN,
received the Daisy Award for displaying compassionate care. Taylor showed kindness and patience towards a patient who was very upset and worried. Taylor made sure the patient had a warm blanket and checked on her constantly to make sure she was doing okay. Taylor did all of this while training a new nurse. She is a great example of what nursing and caring is all about.
Wayne Moody, RN,
received the Daisy Award for his leadership and strong interpersonal communication skills. Wayne was asked to assume interim leadership for the 4T and telemetry monitoring center in addition to his other responsibilities. Wayne was able to keep the unit together and functioning and was able to demonstrate support for the team. Wayne was available 24/7 and showed the team how a servant leader displays true leadership. Wayne continues to be a constant positive force for the team as well as the new leaders that have joined the 4T team. He is a seasoned leader with exceptional interpersonal skills with all members of the healthcare team, as well as the families of his patients on the inpatient rehab unit. Wayne has facilitated a trusting, collaborative culture on the inpatient rehabilitation unit.
Ashley Reid, RN,
received the Daisy Award for displaying empathy for a new mom. Not only was she empathetic, responsive, and helpful, she also provided desperately needed reassurance. Due to having a C-section, the new mom's breast-feeding plan was drastically changed. Ashley presented all options with full support and details. Her confidence and understanding made all the difference. Her knowledge and care had such a positive impact. Ashley provided care that was open, empathetic, and judgment free.
Throughout a history that spans 120 years, Wellstar Atlanta Medical Center has been dedicated to a set of ideals that has spurred the transformation of a five-room hospital with one doctor into the 460-bed acute care facility with over 700 physicians in nearly all specialty areas that it is today. The origins of this medical institution start on Thanksgiving Day in 1901, and throughout the twentieth century and beyond, our facility has built a reputation as a leader in medical education and healthcare. While the facility has changed names, starting with Georgia Baptist Hospital then Georgia Baptist Medical Center, and finally changing to Atlanta Medical Center in 1999, along with various strategic partners starting with Tenet and now Wellstar, the commitment to excellence has not waivered throughout this time.  Notable firsts and achievements for the institution include having the first cardiac rehab program in the Southeast, the first hospital in the state to use lithotripsy, and the first hospital in the state to offer hyperbaric oxygen therapy. Providing healthcare to our communities via outreach has also been a long-standing tradition at Wellstar Atlanta Medical Center.  In the past, we have served as a healthcare provider for the 1994 Goodwill Games held in St. Petersburg, Russia, by use of our telemedicine program, and in 1996 we were chosen as one of the receiving hospitals for the Centennial Olympic Games. Wellstar Atlanta Medical Center is also the hospital for the Atlanta Motor Speedway, providing trauma service for NASCAR and INDY racing each year.  The education provided at our institution is rich in history, too, with the nursing school that began in 1901 (but has since closed) and the 50-year history of the Graduate Medical Education program having trained approximately 1,500 physicians who leave our program ready to serve the public. The program is even home to a peer-reviewed medical journal based on findings from our orthopedic surgery residents.  Present-day Wellstar Atlanta Medical Center is a proud Level-I Trauma Center, home to a Level III Neonatal ICU, a women's health service line that is proud to offer water births, designated as a Primary Stroke Center by Joint Commission, not to mention the continued successful Graduate Medical Education program with residency programs in family medicine, internal medicine, general surgery, orthopedic surgery, and pharmacy. With our commitment to innovative care, inclusivity, and compassion, Wellstar Atlanta Medical Center stands ready to continue our historic tradition of being a leader in healthcare.